Which yacht types and sizes exist in the world?
Are you curious which yacht types and sizes exist in the world? Spoiler: there are plenty!
In this article, we explore different types of yachts, such as motor yachts, sailing yachts, catamarans and trimarans.
We talk about their unique features, advantages and disadvantages.
We also cover the difference between serial, semi-custom and custom yachts and see which one is right for you. 
Finally, we learn about how yacht size is measured and how it affects overall yacht volume and operations.
Let's get started! 

YACHT TYPES
If you consider buying a yacht, you need to decide on its type.
Which yacht type do you prefer: motor yachts, sailing yachts or catamarans?
These three categories are the most popular types of yachts, although there are also other ones.
Let's look at each of them separately.
Yacht Types: Motor Yachts
Motor yacht is the most common type of a superyacht. Around 80% of world's yachts are motor yachts.
These luxury boats are powered by strong engines, do not have sails and over time have become symbol of a classy and laid-back lifestyle.  
Pros of Motor Yachts: 
Powerful and fast 
Greater technological advances 
Greater deck space, more living volume 
Easier to find suitable crew members 
Easier to operate than a sailing yacht 
Easier to host guests of all personalities 
Contras of Motor Yachts:
Less sustainable, higher fuel consumption 
Less adventurous feel (if you are looking for it) 
Shorter range (can only be powered by motor) 
Engine noise 
Motor yacht is probably the first thing which comes to your mind when you think superyachts.
Classy and sleek design, plenty of deck space, comfortable staterooms and lots of entertainment options – all this you can find aboard a motor yacht.
Motor yachts come in different types and sizes and with different purposes. The latest trend is explorer motor yachts, which are explicitly equipped for cruising in cold polar regions.  
Yacht Types: Sailing Yachts
Sailing yachts are the second most popular yacht type. If you love the wind and want that classy sporty feel while aboard, then a sailing yacht is the right yacht type for you.
Another advantage is that when not powered by motor, sailing yachts are very quiet. It is only the sound of waves and wind (and an occasional seagull) around you.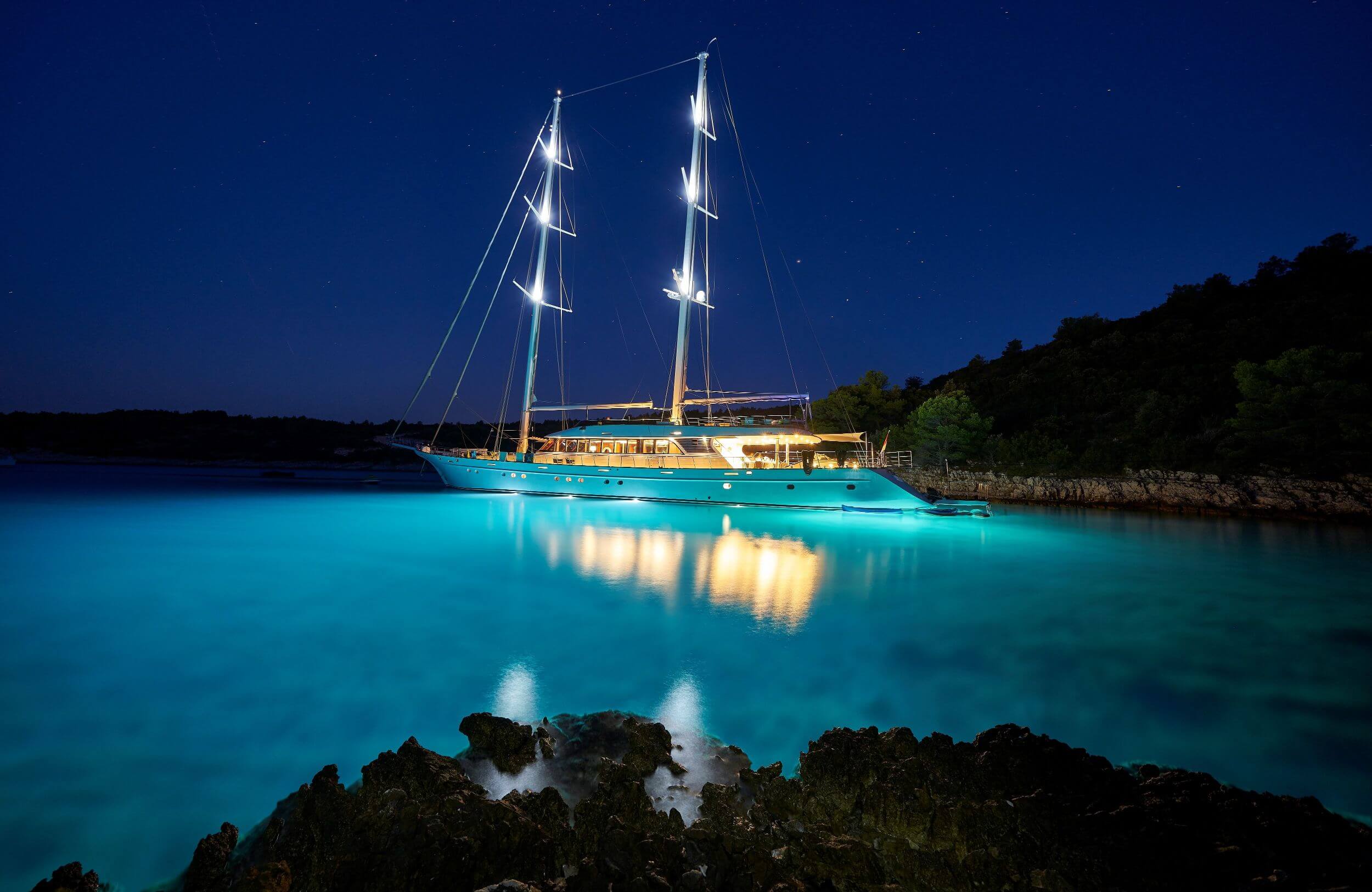 Pros of Sailing Yachts: 
Unique feel of adventure 
Can combine peaceful cruise with racing  
Very quiet when powered by sail  
Lower fuel consumption 
Lower maintenance cost 
Can sail in shallower waters  
Contras of Sailing Yachts: 
Tend to be slower that motor yachts (in case you like speed) 
Less stabilization  
Smaller cabin space 
Might have less lifestyle equipment available (Jacuzzi, gym, cinema) … 
There are only two types of people out there: sailing yacht fans and motor yacht fans. Rivalry between fans of the two yacht types has become legendary.
Probably, you already know which group you belong to. Nevertheless, we still recommend you charter both sailing and motor yachts to be sure you are making the right choice. If you are still unsure, read about the third yacht type below. 
Yacht Types: Catamarans  
Catamaran is defined as a vessel with two parallel hulls which are joined together. Due to its form, catamaran is the most stable of all yacht types.
If you are looking for stability and comfort, or have family members who easily get seasick, buying a catamaran is a valid option to consider.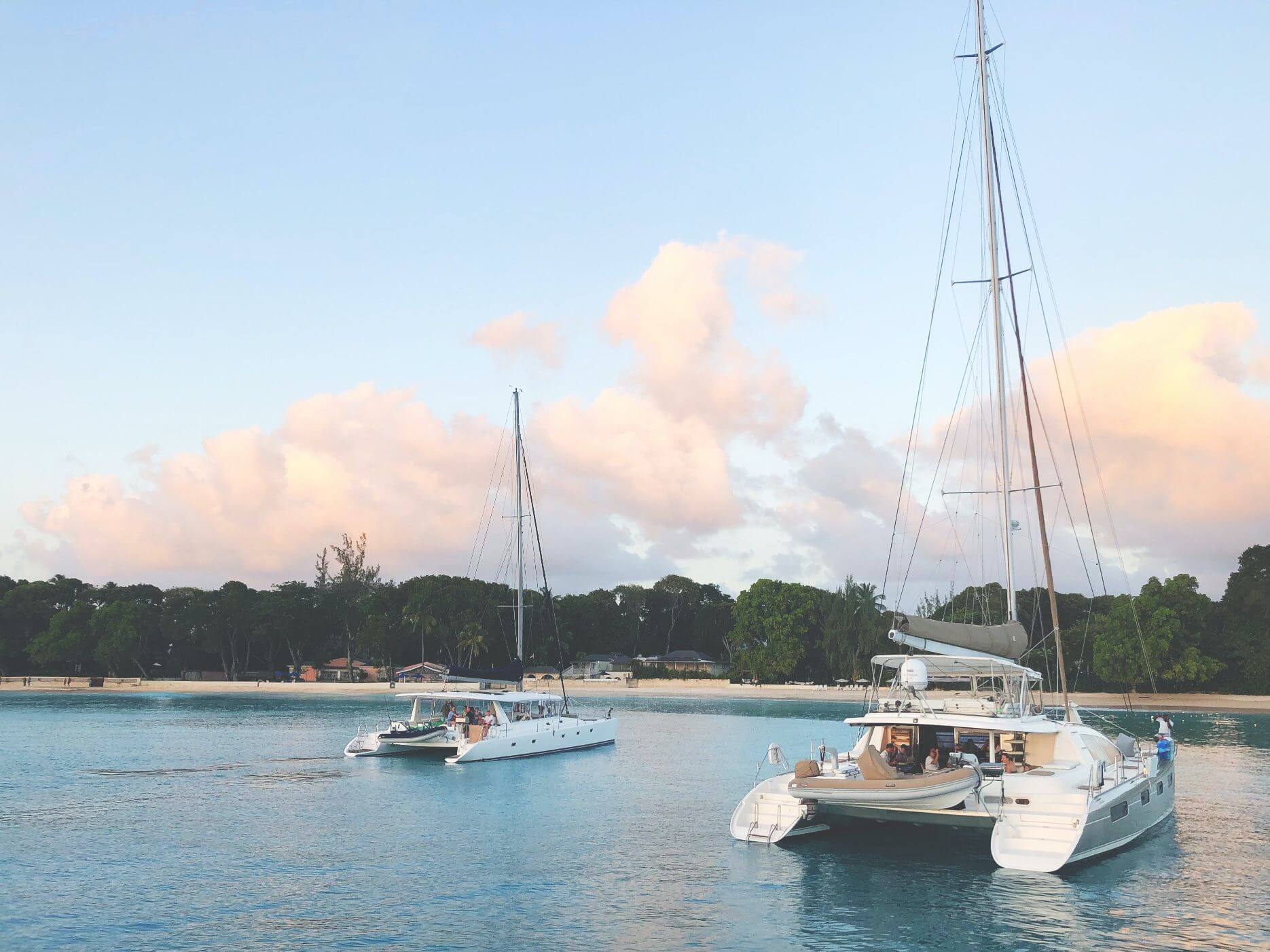 Pros of Catamarans: 
More fuel efficient & sustainable 
More stability  
Can be used in shallow waters 
Contras of Catamarans: 
Less volume for staterooms 
Higher dockage rates than for a monohull 
Different sailing feeling compared to a sailing boat 
Catamarans offer a great opportunity for taking family vacations, which will leave every family member happy. Since they are more difficult to sink, they are also considered the safest boats.
If you are looking for extra stability, comfort and space, but also do not want to compromise on adventures and possibility to explore shallow waters, catamaran is right yacht type for you. 
Yacht Types: Trimarans 
Big brother of a catamaran, a trimaran, has even three hulls – one main hull in the center, and two smaller hulls on each side.
You will not see them as often, but there are certainly also big fans of trimarans out there. Trimarans are designed for racing or leisure but are also widely used for military and shipping purposes. 

YACHT PRODUCTION TYPES: SERIAL, SEMI -CUSTOM, CUSTOM YACHTS
Now that we've covered yacht types, let's investigate which production options are out there. Unlike the automotive industry where most of the car models come from production lines, the yachting world offers future owners more possibilities.  
SERIALS YACHTS 
This is the most common and less expensive way to get to your new dream boat. Serial or production yachts are yacht models which are produced by shipyards in various quantities based on model and size.
Serial does not mean that you cannot tune it to your taste though. Manufacturers offer different sets of modifications with certain yacht models. You will likely get to choose between several layout models and different equipment options.
Obviously, if you order a newly build yacht, you are likely to get more space for your improvements, than if you decide to refit an already existing yacht. 

SEMI-CUSTOM YACHTS  
A good way for owners who wish more character and comfort to their boats but at the same time do not want to order a fully customized vessel, is to order a semi-custom yacht.
Semi-custom yachts stand between serial and fully customized boats. You save a lot of time and effort by picking an existing engineered platform from which to start planning.
Then, together with experienced naval architects and designers, you enhance it up to your expectations by customizing layout (possibly including superstructure) and interiors.
Ordering a semi-custom yacht gives you more freedom to decide how your yacht will look like. Construction time is also much shorter in comparison with a fully customized yacht, since many parts are already designed, engineered and possibly even pre-built.
By ordering a semi-custom yacht, you can shorten construction time from two – three years up to several months!
Shipyards are also less likely to fall behind the delivery schedule, since they have produced similar yachts before and know which time is needed for delivery.
Most semi-custom yachts are designed to suite majority of potential future owners, which means that layout, size, engineering etc will be well thought-through in advance.
Due to extensive previous testing & refining of semi-custom hulls by the shipyard, it is possible that your new yacht will turn out more reliable and problem-free than a fully customized yacht. 
CUSTOM YACHTS 
If you wish to be unlike anybody else and want to take your dream a step further, a fully custom-built yacht is exactly what you need.
Almost anything is possible and achievable in today's superyacht building industry. The only considerations are your budget and international safety and security standards, more on which you can read in our article on Safety and Security Onboard Superyachts. 
With a custom-made yacht, you can be sure you will get exactly the boat you want, tailored just for your preferences, no other yacht in the world being similar.
Consider longer delivery time and substantially higher cost, since R&D expenses are not shared between yachts of the same series.
Many owners buy a smaller replacement yacht, while they are waiting for their customized dream boat to leave the docks. 
A fully customized superyacht is surely the most exclusive type of a yacht one can own.

Yacht Sizes
Now let's look at different yacht sizes. But first, let's find out what yacht size actually is.
How is yacht size measured?
Length Overall (LOA) is the most widely used metrics of yacht length. It is measured from the aftmost tip of the hull to the furthermost point of the stem, measured parallel to the waterline. It is probably the only yacht length definition you need to know as an owner.  
*For yachting geeks out there, here are other yacht size definitions used in the industry:
Length of Deck (LOD): deck length excluding bow sprits and other projections. Makes particular sense for sailing boats, since their Length Overall can considerably vary from their Length of Deck.
Length of Hull (LH or LOH): Length of hull including fixed fendering but excluding any bow sprits. It can be shorter than LOA.
Length of Waterline (LWL): length of a boat at the level where the boat sits in the water.
Interesting fact: Did you know that with each additional 1 meter of length, the internal volume of a yacht increases by 6-7 cubic meters? A 40-meter yacht is not just twice longer than its 20-meter companion. According to Cube Law, it is also 6-7 times larger in volume!  

Motor yacht sizes by group
Let's look at different sizes of motor yachts. To make things easier, we divided them into 4 groups. 
Please note that the following crew and guest numbers per yacht size are only approximate. 
Factual crew numbers will depend on specific yacht length, cruising style, owner preferences and whether the yacht charters or not.
Factual guest numbers will depend on yacht registration type, especially with larger yachts.
22 – 40 meter motor yachts
Motor yachts in of this size are most likely serial production yachts. This means that you can buy a specific yacht model which has been designed before, and choose your own details, such as finishings and furniture.
Yachts of this size will need 4-6 crew members: yacht captain, one or two deckhands, one or two stewardesses, a yacht chef, and presumably an engineer.
22-40 meter long motor yachts normally can host up to 8 guests.
40-60 meter motor yachts
Motor boats of 40 meters length and larger are considered superyachts also within circles of superyacht industry professionals. 
This is where operations and crew requirements become considerably more sophisticated. There are also more semi-custom and custom boats in this size segment.
A 40-50 meter motor boat will require a crew of approximately 9-13 crew members, depending on specific owner requirements and cruising / charter preferences. 
A possible crew setup would be: yacht captain, first officer, bosun, two engineers, three or two stewardesses, two deckhands, one or two chefs (often a guest and a crew chef).
Crew of a 60 meter motor yacht will count around 20 members.
40-60 meter long motor yachts normally can host up to 12 guests.
60 – 80 meter motor yachts
Here the yachts grow much larger, and so do the costs of maintenance.
A yacht of 60 meters length will have a crew of 20-23 members. A yacht of 80 meters length can have a crew of up to 80 members.
The maximum number of guests will depend on yacht registration type. Many owners choose to keep maximum of 12 guests, since it allows for a simpler regulation regime.
80 – 180 meter motor yachts
A 100 meter motor yacht will require 80-100 members crew. Its tonnage will exceed 500 GT, which means that the yacht will fall under more regulations: STCW, SOLAS, ISSC, ISM and others.
A 170 meter motor yacht can have up to 100 crew members.
The largest yacht worldwide at the time of writing is Azzam, at 180 meters built by Lürssen. Azzam can host 36 guests and a least 80 crew.
Maximum guest number on a yacht of this size can still be only 12 guests. But if the yacht is registered as a passage vessel, it can be significantly more.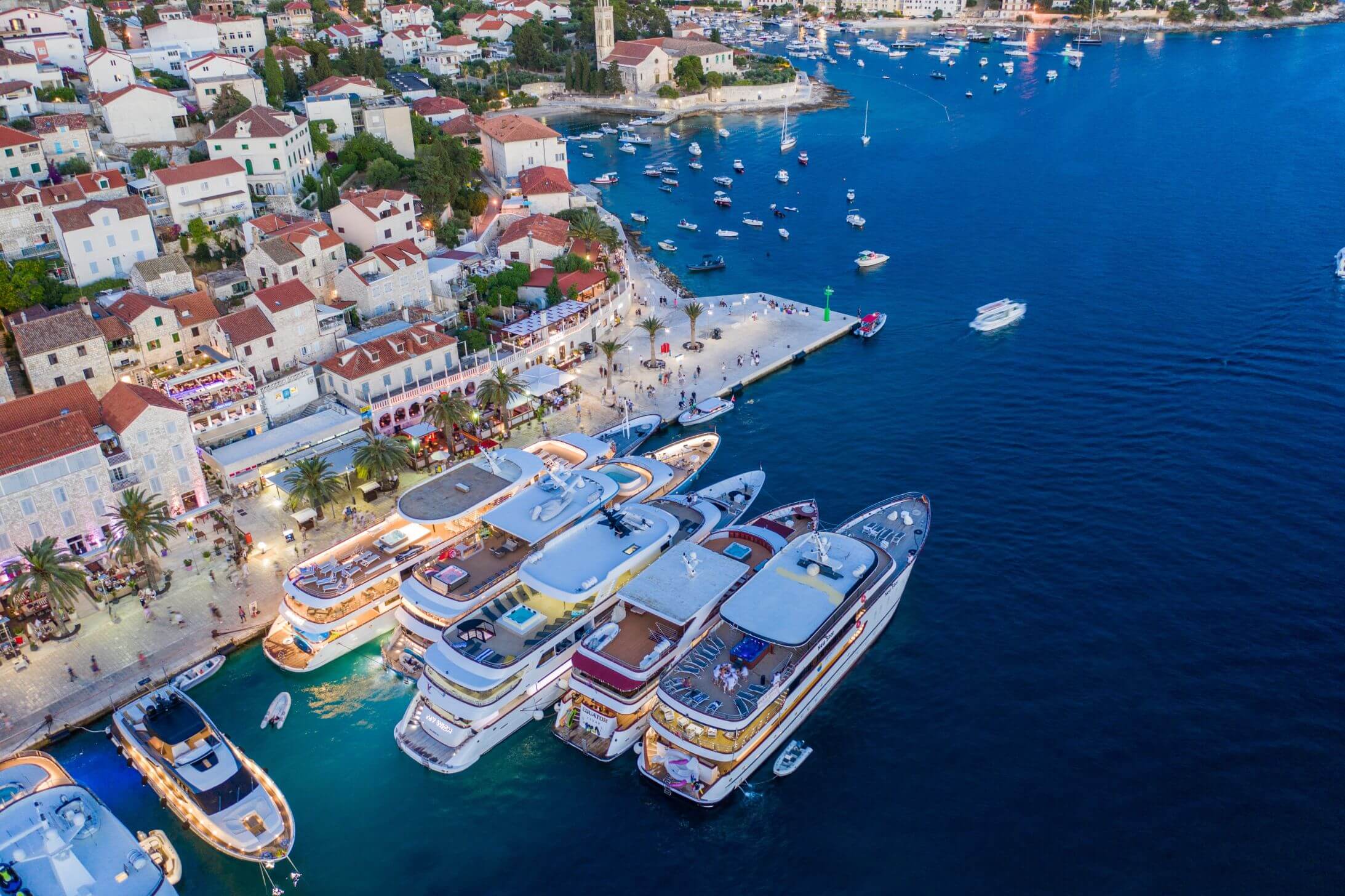 How does yacht size affect my yachting experience?
Size does matter after all.
Let's look at factors that change with the growing size of a yacht.
While thinking of upgrading to a bigger vessel, do not forget that as the yacht size grows, following factors also increase: 
Yacht price 
Availability and price of marina dockage 
Fuel consumption 
Number of full-time crew members 
Time you can spend away from ports 
Quantity of water and other supplies the yacht can carry 
Functionality and entertainment options 
Complexity of repairs  
Applicability of laws & regulations 
Time needed to sell the yacht  
Budget is the main factor which determines how big your boat can be. To learn more about the cost of yacht ownership, read this article.
During the past decade, superyachts increased in size dramatically, and this trend continues. According to an article by Boat International, there has been around 10.000 yachts over 24-meter LOA in the world. Around 80% of them were motor yachts.
Most of the owners start small and upgrade their boats over years. Once you owned a smaller yacht for some time, you will understand exactly what you love about it.
Also, you will know what you want to improve. So why not initiate a new-build of a new more exciting and possibly larger boat? You can still have the older yacht at your disposal, while waiting for the new delivery.  
SUMMARY: YACHT TYPES AND SIZES
In this article, we classified all yachts into 3 main types: motor yachts, sailing yachts & catamarans. We also discussed their pros & contras.
We explained the difference between serial production, semi-custom and custom yachts.
Finally, we learned how yacht size is measured and how it affects various aspects of yacht operations. We looked at crew and guest numbers for each yacht size.
Another important factor to consider is whether you want to commission a new-built yacht or buy a second hand one. More on this in our next article.   
Drop us an email if you need help with choosing a yacht or booking a yacht charter. We will define your needs and find the best solution together.
Are you a motor yacht, sailing yacht, or catamaran fan?  
Comment below! 
Article by Olympiada Wohlin-Elkovsky from Yachtowner.co