Step by Step Guide to Yacht Charter
Yacht Charter – Your Gateway into Superyacht World
Do you dream about a holiday on a yacht? Are you not sure where to start and how to get a good deal?  
In this article, we are going to introduce you to yacht charter experience from the client point of view. It is the most common way how people start yachting.
Spoiler: Majority of them never stops. 
Why Charter a Yacht?
Be a yacht owner for a week
According to recent data, only 2% of High Net Worth Individuals own superyachts! Why not spoil yourself for a week or two and feel yourself like a yacht owner?
During yacht charter, you will be in the role of the owner. Yacht crew will cater for your needs, according to your preferences.
You can live a dolce vita without any hassles of ownership: managing daily operations, hiring crew, doing maintenance work, paying for marina berths…
Just book your charter, learn back and enjoy six star service brought to you by the yacht crew! 

Yacht charter pays out financially 
If you do not plan to go yachting for 8-10 weeks every year, it will probably make financial sense to charter instead of buying a yacht.
Superyachts cost around 10-15% of the purchase price in yearly maintenance!
This can easily be several million euros a year. On top of that, you will have to have a team who will take care of all the operations and safety compliance.
If you only have a couple of weeks a year to go yachting, chartering is a great option!
Try chartering different yachts before you buy your own
Chartering vessels of various types and sizes is a great way to understand which yachts suit you best.
Buying your own yacht is a big decision which needs to be well-thought through.
Before you sign a new build contract, charter various yachts by different builders and you will understand your preferences much better.
Go yachting while your own yacht is in refit or maintenance
Any superyacht needs to undergo planned or unplanned maintenance work sometimes. Great if the schedule is planned in advance.
Sometimes things break exactly when you were planning your next vacation, and your own yacht is not available for cruising. Solution: charter another yacht!
Private vacation in remote destinations
Yachting gives you absolute privacy. While even in finest hotels and restaurants you will still meet other people, your charter yacht remains only yours. If you are looking for more privacy, go yachting.
Also, yachting gives you opportunity to cruise in remote locations, hidden harbours and lagoons which are not reachable by other means. What a fantastic way to explore the world!

STEP BY STEP GUIDE TO YACHT CHARTER
The perfect (and the easiest) start into yachting is through your social network.
If you are lucky enough to get invited on a yacht by your friends, you can enjoy the ride without having to deal with bookings.  
In case you do not have any yacht owners in your network, start looking for that perfect vacation yourself. Luckily, it is very easy.  
In this step-by-step guide, we will walk you through the complete yacht charter experience. 
1. SET A BUDGET
Start with setting a budget. Yachts can be very different by what they offer, and price can easily get out of control.
Even if your budget is close to unlimited, it is important to understand what you are willing to pay for your upcoming vacation.  
Price for a yacht charter typically consists of:
Charter price – the actual price of chartering the boat with crew. 
VAT – tax will most probably also be payable on the charter price. 
APA (Advanced provisioning allowance) – an amount of money which you pay in advance for fuel, purchases of food, drinks, flowers, and any other expenses during the charter. Best practice is to set clear instructions what it can be spent on and when. The crew or your broker will inform you, once APA is close to zero.
By the end of the charter, the crew will provide you with invoices for all the costs, and the remaining balance will be reimbursed to your account.
Exact items that can be covered from APA can differ slightly from boat to boat, so always check your charter agreement to avoid surprises! 
Delivery/Re-delivery fees – sometimes the boat can be stationed far away from the marina you want to be picked up from.
Cruising to your pickup destination and back costs fuel – and money. This amount is based on mileage and will be added to your charter price.   
Crew tips – it has become an industry tradition to leave tips for the crew by the time your charter ends. The average amount is around 10-15% of the charter price.
Normally the charter guest would hand over a tip to the captain, who will then later distribute it between the crew members equally.
Although crew members are getting their salaries, a decent tip is a good way to express your gratitude for the excellent service and professionalism. Of course, it is totally up to you to decide which amount you want to tip.
Keep in mind though, that a tip lower than the industry standard of 10% would signal that there was something clearly wrong with the services provided. 
Brokerage commission – brokerage commission can vary in its size, with an average of 15-20% off the charter price (APA does not fall under brokerage commission).
Some modern online platforms for charter bookings tend to charge lower commissions. They might also provide less support during your charter.
For first-time charterers, we recommend booking your yachting vacation through an experienced broker who will guide you through the paperwork and the booking process.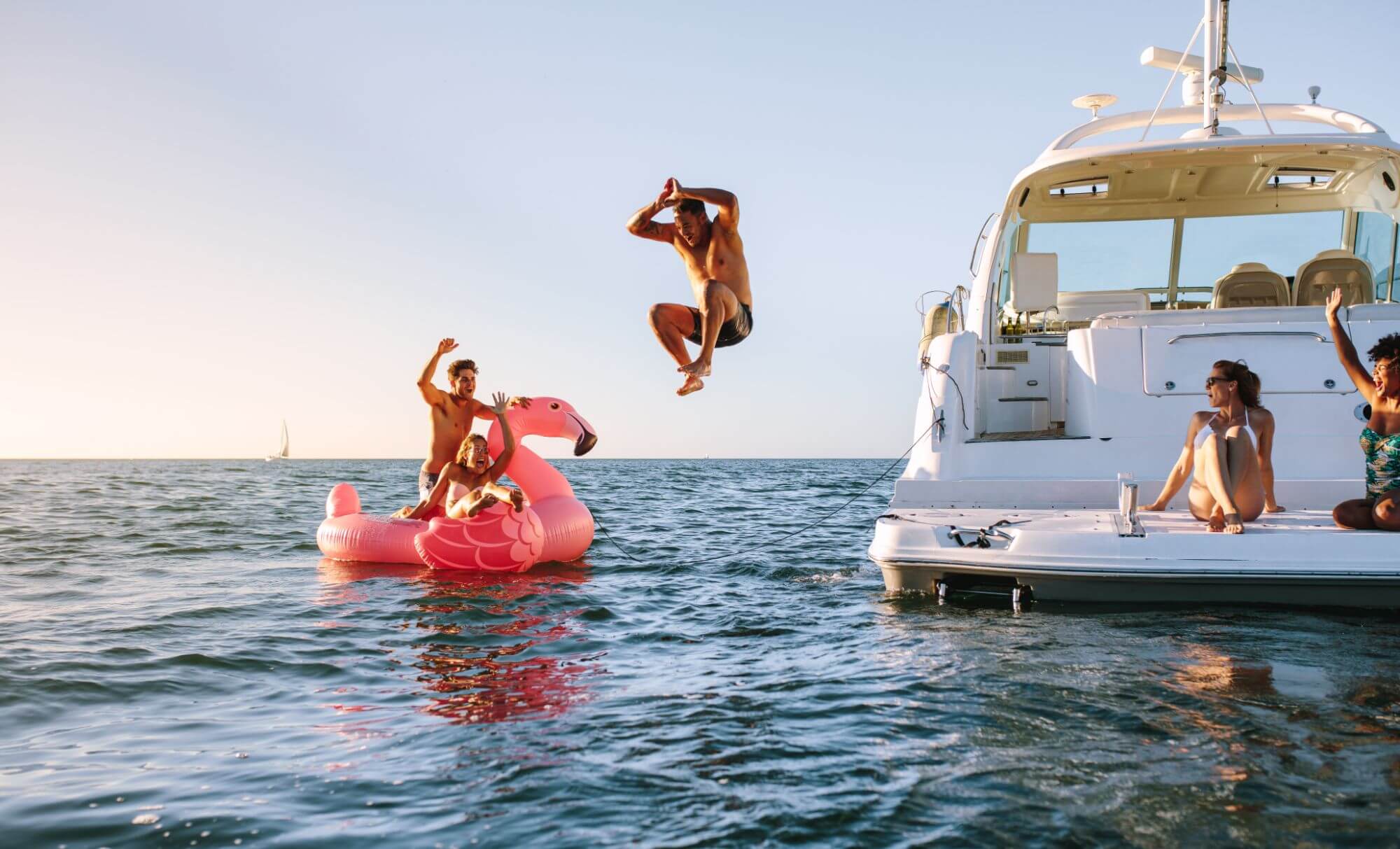 2. CHOOSE A LOCATION
Whether it is South of France, Croatia or the Bahamas, the choice of cruising location will help narrow down the selection of available yachts. 
Not sure where to go? At least choose a region. Most charter yachts will specify in their listings how far they are willing to cruise to pick you up.
Read more on various yacht charter locations in our next articles. 
3. SET THE DATES
Preferably set the charter dates in advance. Remember that most charter yachts are used by their owners alike, especially during the high season.
Owners will usually block specific times for their own vacations. The earlier you book your yacht vacation, the better the chances are to get that perfect boat before anybody else books it.  
4. CHOOSE A YACHT
There are many yachts out there, and we are sure you can find the one which is perfect for you. There are several ways to find a suitable yacht: 
CHARTER BROKER.

Traditional way to book a yacht charter is through a charter broker. An experienced charter broker has all the necessary knowledge of boats, their specifics, contractual aspects and operations.

A broker will ask you about your preferences and character before offering you one or the other charter yacht.

Yachts are like cars – all are built to suit different purposes. If you are planning a family vacation with baby trolley and a lot of suitcases, you would probably not choose a small fast cabrio, but rather a large SUV.

ONLINE BOOKING PLATFORMS.

In the past several years, there has been a surge in online booking platforms for yacht charter, with new platforms popping up every year.

These platforms let you find and book yacht charter online, mostly charging lower commissions than when booking through a traditional brokerage house.

This can come with less support available in case of any issues with the charter – check the conditions before you book.

Different platforms focus on different experiences and each has its own twist. Look at our list of online booking platforms for yacht charter.
What to look out for in a charter yacht: 
Is the crew local? Do they know the region well?

 

Does the boat have good reputation? Are there any reviews online? 

 

Does the yacht look clean? How old are the photos in the listing?

 

Does the boat have all the desired equipment onboard? 

 

What selection of superyacht toys does the yacht offer?
Once you decide on which yacht to book, you will have to sign a charter agreement and make a payment. This process is very simple, and your broker or booking agent will guide you through it.  
It is always a good idea to decide on itinerary. Obviously, there is always room for spontaneity, especially with shorter daytrips.
If you plan a more elaborate route with longer passages or plan a special celebration during the charter, communicate it to the crew in advance. They will make their planning and prepare necessary provisions.  
Try chartering different types of boats to understand what you are looking for. The more yachts you try, the better you know how your own perfect yacht should look like.
Once you will have found that perfect boat, you may end up chartering it for several years to come. Or maybe you will even buy your own boat with similar characteristics!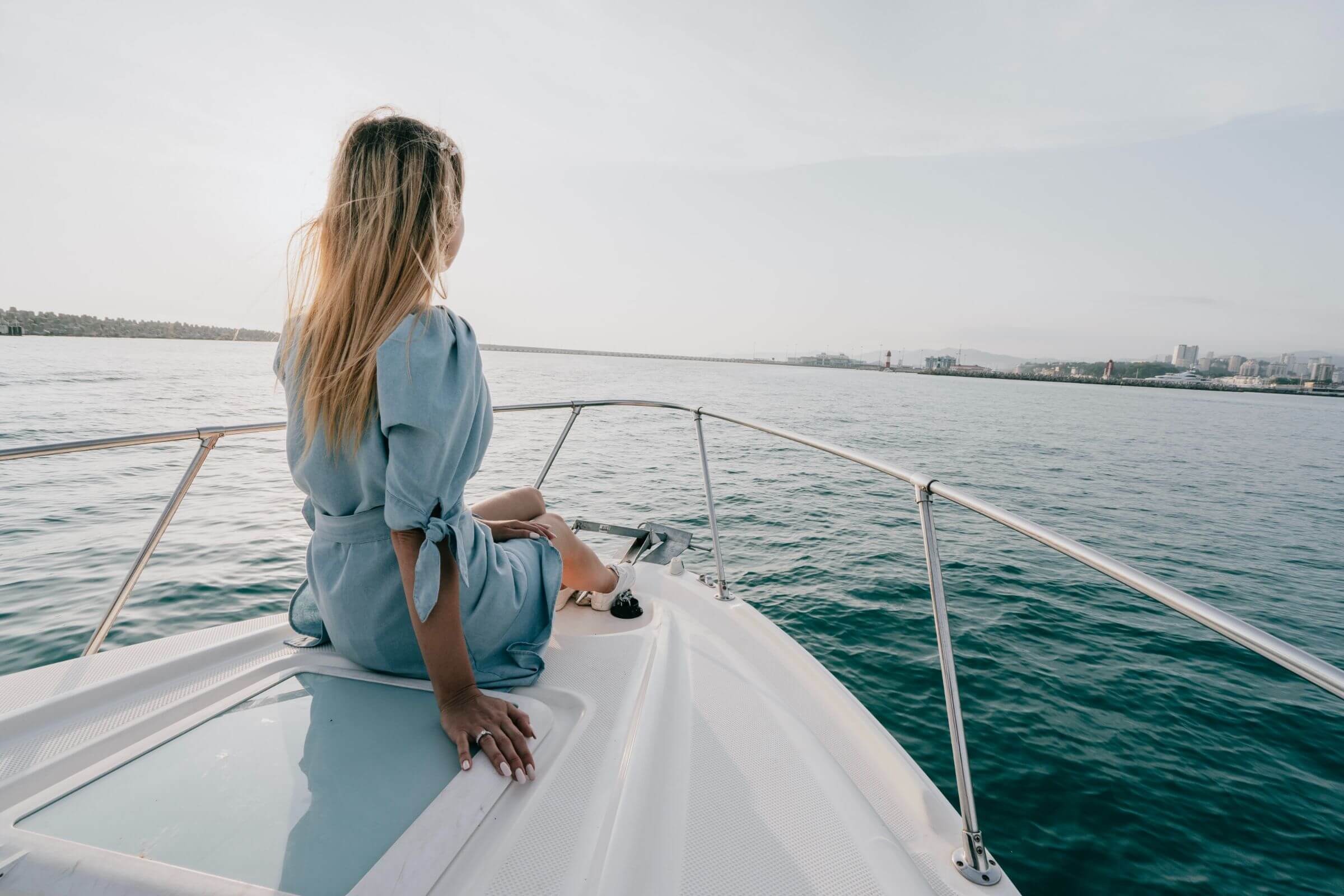 5. MAIN STEP: ENJOY YOUR CHARTER!
The fifth and the most important step: enjoy your charter! This is your time, your unique experience which you very well deserve!
Get your group together, have fun, rest and make memories. Make sure to follow advice of the crew: certain things may be prohibited on board.
Remember, the captain and the crew are responsible for the charter guests, the yacht and its surroundings for the whole charter duration. Being polite with them will always result in even more exceptional service level. 
6. COMPLETE THE CHARTER
 All good things come to an end, and so does your yacht charter vacation. Pack your luggage, check the amount of remaining APA. If there is still some money left, you will receive a credit note.
If you are happy with the service, leave tips to the captain and thank the crew. They worked hard to make your charter experience unforgettable.  
7. BOOK YOUR NEXT CHARTER!
 The beautiful thing about chartering yachts is that you can book different yachts each season. You can also stick to the same boat if you already found your favorite one.
If you loved your yacht charter experience, now it is time to think which yacht to charter next! 
SUMMARY: Step-by-step Guide to Yacht Charter
 In this step-by-step guide we covered the full process of yacht charter from the planning stage up to completion.
We also talked about what factors to pay attention to when choosing a yacht; and what the charter price consists of.
Start out with setting a budget, choose the charter location and time, pick a yacht, communicate the itinerary and your special needs, sign the charter agreement and make payment.
Your broker or booking agent will support you though the process and make sure that everything is well prepared when you board the yacht.
Pack your luggage, get on a flight, and better set an out of office reply – your dream vacation is not far away! 
Do you have any questions on yacht charter? Send us an inquiry. We will define your needs and find the best solution together!
Article by Yachtowner.co