Should I Buy a New or a Used Yacht?
A New or a Used Yacht?
 The question on whether to buy a new or a used yacht will sooner or later come to your mind if you are planning to purchase a yacht. 
In this article, we will touch the main differences between new and used yachts and briefly explain the pros and cons of each. We will also introduce you to yachts built on speculation. 
Let's dive right in. 
New or Used Yacht: Basic Questions 
 If you are thinking whether to buy a pre-owned yacht or to commission a new build, start with asking yourself the following questions: 
How fast do you want to get the yacht? 
How much do you value having the exact layout and interiors of your choice? 
Unlike in the automotive industry, where new and used car purchase process looks very similar, in yachting it differs greatly by its nature and the time it takes. A newly built yacht is more likely to come out of the shipyard exactly how you want it. Bear in mind though, that superyacht construction takes 2-3 years on average. More elaborate projects can take even longer. Are you willing to wait? Or do you want to cruise off this coming season already? 
If you decide to purchase a pre-owned yacht, you might still be able to sail into sunset this or the following season. This might come at the cost of not having all the desired functionality, layout or the perfect interiors. Luckily, you can still plan a subsequent refit and change quite a lot about the yacht's current condition and design.  
Also ask yourself:
How long do you plan to own the boat? 
When and how do you plan to sell it after?  
Like planes and cars, yachts also depreciate over years. Surely, some historic yachts can preserve their value. Not every yacht depreciates in the same way though. Consequently, resale topic should also play role in the initial choice.  
Now let's take a closer look at each category.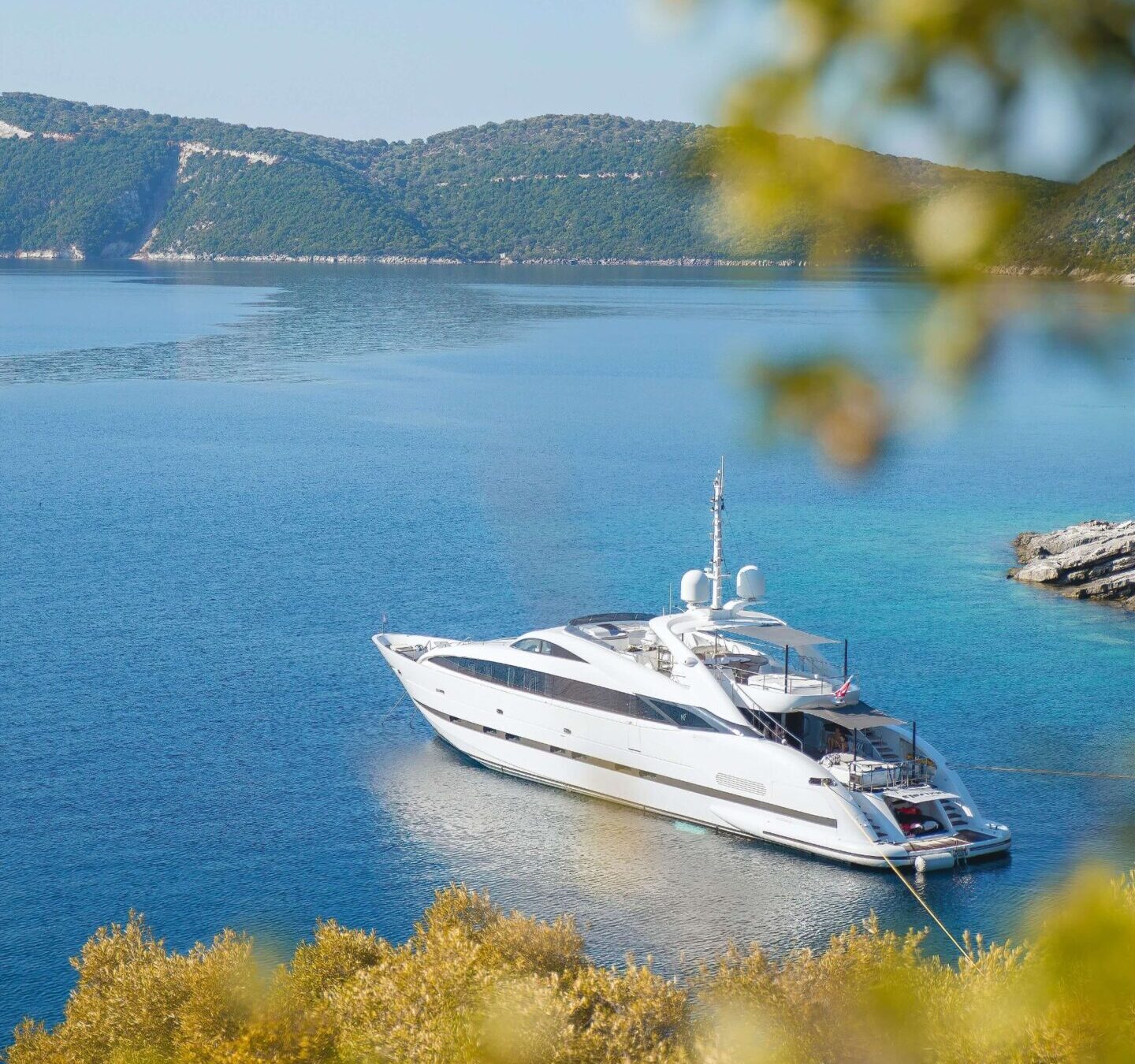 Used Yachts
A lot of owners make their first step into the yachting industry by acquiring a pre-owned yacht. Why?  
First, the purchase and build process of a new build boat is much more complex and requires considerably longer time to complete. Second, in order to design a new build, it is better to gather enough insights from previous yachting experiences. How can you know which features you want, if you have not been out on water often enough? 
Another reason why people buy pre-owned yachts is their historic value. Like old timer cars, some classic boats may not be in production anymore. Is there a certain yacht out there which you always dreamt of owning? When has it been on sale for the last time? Is it on the market again? 
Pros of a Used Yacht
The main advantage of choosing a used boat is its shorter purchase process. If you are lucky enough and the purchase goes smoothly, you might very well be able to cruise your own yacht during the same season. You do not have to wait for several years for this special moment.  
Next advantage of buying a pre-owned yacht is its lower cost. New yachts sell at a premium. If you manage to find a beautiful pre-owned boat in an excellent condition, you might be lucky to get a fantastic yacht with all necessary features for considerably less money.  
Cons of a Used Yacht
The convenience of buying a yacht fast might come at a price though. By purchasing a used yacht, you accept higher risks as there will be no warranties about its previous history and equipment. It is highly advisable to run a marine survey and sea trials before making the purchase.  
A pre-owned boat will also likely have older design and interiors. You can run a refit yourself but bear in mind the additional time and cost it will take. The time and cost totally depend on the scale of a refit. A major refit of a medium-sized yacht can take anywhere between 6 and 12 months. It can well be more cost-effective to buy and refit a second-hand yacht, than to buy a new one. Exact numbers will obviously depend on the models you are comparing. 
Used Yacht Purchase Process
Start with looking at various offers online or through a broker. Choose several yachts that you like the most and arrange viewings.  
At this stage, it is a good idea to hire a professional marine surveyor who can highlight any problems with yacht's condition. Marine survey is a technical examination process run by an industry specialist. Undergoing a marine survey is not required but is highly advisable to avoid unpleasant surprises. 
There are different levels of yacht surveys, from basic to full ones. While newer boats which are still under warranty will likely require only a basic survey, older boats will need to be surveyed more thoroughly. You will have to cover costs of a survey yourself, but it is a very good investment you will not regret making.  
To secure the yacht for yourself, make a formal offer. You will have to make an advance payment of typically 10% of the purchase price which will be held in your broker's escrow account. Placing a deposit will also give you an upper hand at negotiations as a proof of your intention to buy. 
Sometimes it also makes sense to make two or three formal offers for the top yachts on your list, subject to personal inspection. This way, you can save a lot of your time and unnecessary travel cost for viewings. Instead, you focus on visiting only the top picks. You visit the yacht only after you will have confirmed that its condition is satisfactory and that the terms of the deal are reasonable. 
Rate your top alternatives and start with the first one. If the price and conditions are good, then you move forward with the purchase. If not, it is no longer your preferred option, so you move on to the second or the third yacht on your list.  
Finally, it is time to decide if you want to buy one of the yachts or not. You can either accept the boat as is (acceptance), accept it under certain conditions (for instance, only after several issues have been fixed by the current owner) or reject the boat. 
If you decide to buy, there is some paperwork to close the deal. Very soon the yacht is going to become yours! 
 You will also need to think about several practical things which come with your new yacht:  
Decide, where you are going to store the yacht (marina, winter storage) 
Choose financing scheme 
Conclude an insurance contract 
Choose country of registration (flag) 
Set up ownership structure (normally larger yachts are owned by companies, not private persons)  
Hire crew 
We will discuss all these aspects more detailed in our next articles. 
Now let us take a closer look on new build yachts.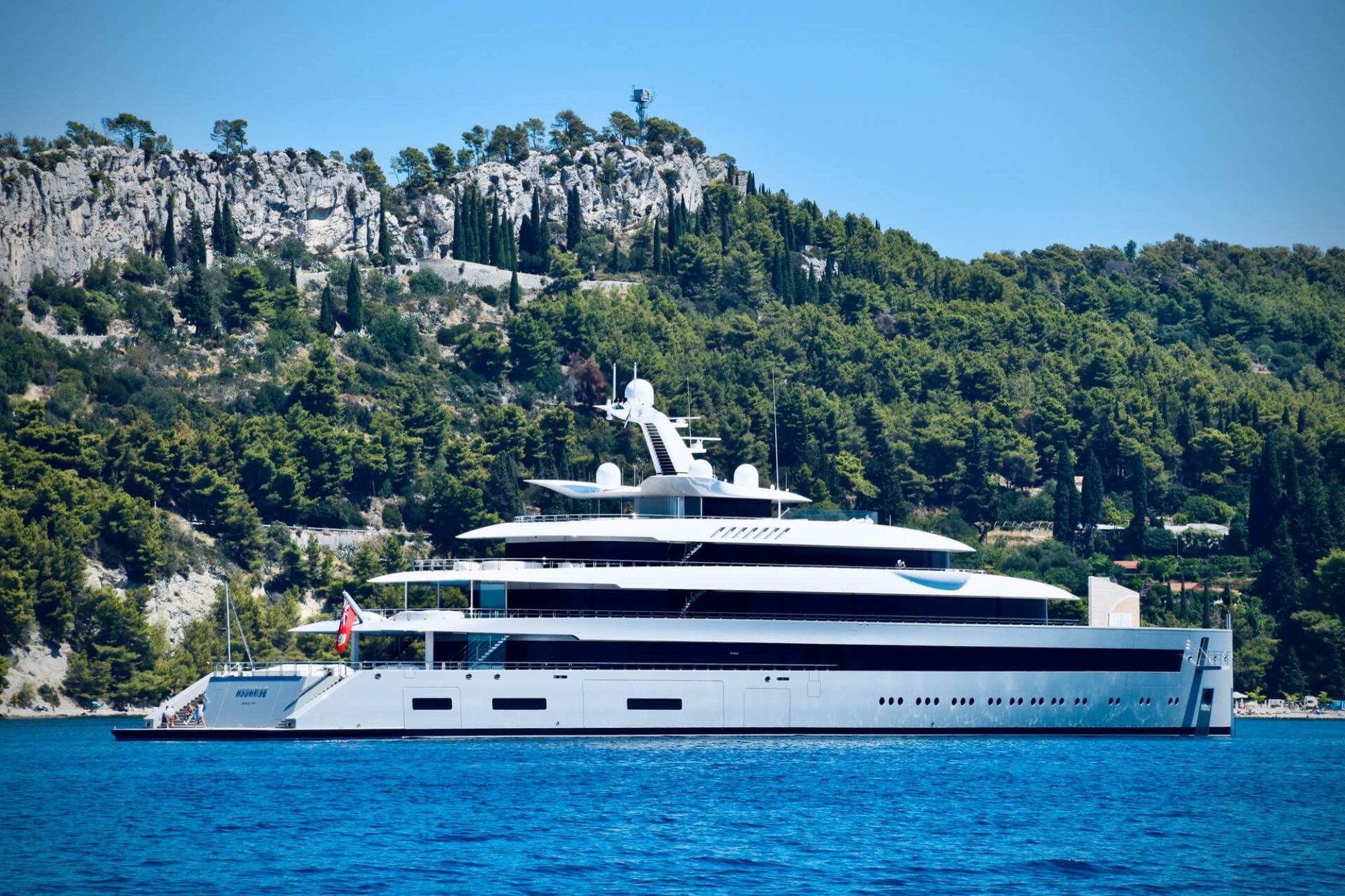 NEW YACHTS  
Commissioning a construction of a new build yacht is another way one can go.  
We advise it to people who have already owned yachts before. Once you have accumulated enough yachting experience, you will be able to design the new yacht to perfectly suit your lifestyle. 
Pros of New Yachts
The biggest pro is that this yacht will be uniquely yours. You can choose any features, any exterior and interior design that suits you and your family best.  
Also, with a new build yacht you will get more advanced technology than with an older pre-owned yacht.  
Warranties are another great thing which comes with a new yacht. You can save a great deal of money and avoid troubles if something onboard unexpectedly goes out of order. 
Cons of New Yachts
Now let us look at the cons.  
As you might have already guessed, the main con of new build yachts is that you need to wait for them for a long time. Plan 2-3 years for construction, depending on the size and complexity of the build. 
Obviously, new yachts also cost more. Normally it is a tradeoff between the size and the features of the yacht. You can get either a larger yacht with fewer features or a smaller yacht with more advanced features for the same price. 
New Yacht Purchase Process
You will need to participate in the new build process. Best practice is to hire a manager or a representative who will act as a contact point for the shipyard and take decisions on your behalf. Managing a new build can be a very pleasurable experience, if organized correctly. Imagine how fulfilling it feels to watch your dream boat being constructed in the shipyard! 
Here are the main stages of a new build process in a nutshell: 
Get the right Owner's team: a project manager; eventually a captain and a yacht engineer 
Choose a naval architect or yacht designer 
Choose a shipyard 
Decide on a financing scheme
Project manage the build
When completed: Take delivery! 
While the yacht is in final construction stage, it is also time to think about the practical details of its operations: marina/winter storage, flag & registration, insurance, crew. 
It is impossible to cover all the details of a new build project management in this article. The aim here is to give you a general overview. More details on commissioning a new build yacht you will find in one of our next articles. 
Now let us see how you can reduce waiting time for a new yacht.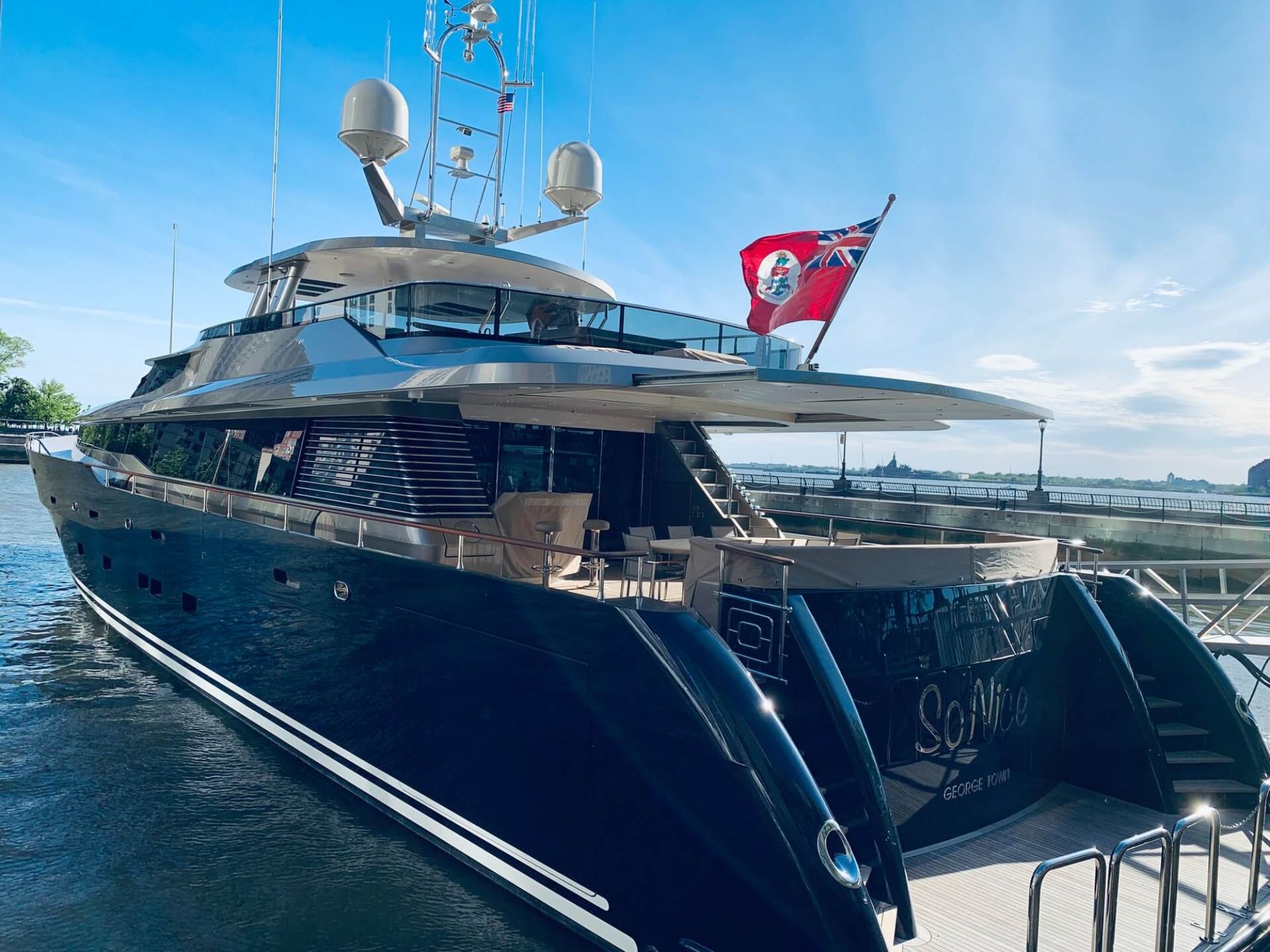 YACHTS BUILT ON SPECULATION 
"Built on spec" – is a phrase one hears quite often in the superyacht industry. But what exactly does it mean?  
Yacht manufacturers understand that many prospective owners would love to buy a newly built yacht but are not willing to wait for several years.  
To solve this problem, shipyards sometimes start building yachts on speculation – starting a new construction without having a buyer and hoping to make a sale during the process.  
This is a great opportunity for you to come in and to save precious time. If you buy into an On-Spec project early enough, there are still quite a lot of characteristics you can change according to your preferences.  
Building a yacht is a long and costly process. Sometimes life comes in between, people's plans and opportunities change. Businesses go bankrupt, couples divorce, preferences & priorities shift.  
Some shipyards can end up with an ongoing new build project, which had been commissioned but abandoned by someone else. It pays off to look out for such opportunities – since these projects are already in construction, shipyards will be very willing to find a new owner fast. And you benefit by saving your precious time. 
Summary: New Yachts and Used Yachts
Purchase process of new and pre-owned boats is very different in the yachting industry. In this article, we gave you a brief overview of both new and pre-owned yachts and explained what "built on spec" means.  
As you can see, main differences lie in delivery times, level of specifications, warranties and cost. While with a new yacht you get the latest technology and design, you also pay more and wait for the delivery longer.  
A pre-owned yacht will not have all the features but will be cheaper and faster to buy. A new yacht will have warranty, while a used yacht will not. To minimize your risks, hire a knowledgeable marine surveyor to inspect the boat prior to purchase. 
And do not forget: Yachting is all about enjoyment and creating memories with your loved ones. It will not matter so much if your boat is old or new. The most important is to choose the boat which will make you happy! 
Do you consider buying a second hand or a new build yacht?
Or do you prefer to charter? 
Comment below! 
Have you ever wondered if you could afford buying a yacht? Which costs you need to consider? How much does a superyacht really cost?
Learn how to book your first yacht charter experience, all in a simple step by step guide.
We are bringing you a list of 25 best superyacht toys in 2022. Which one will be your favorite?
Which types and brands of yachts are out there? There are more than 200 builders of superyachts worldwide!  Get the first impression of the variety of yachts and how the sizes impacts your yachting experience.